Discover Feuchtwangen
With over 1,200 years of history, there is much to discover in the town of Feuchtwangen. Our tour of the town takes you to architectural ruins of the imperial city, remnants of monastic work and exhibits of middle-class life in the Middle Ages.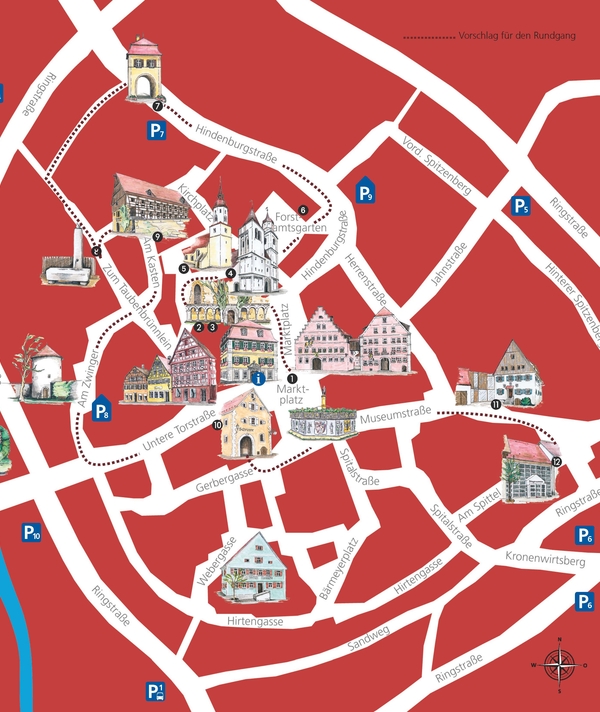 Marktplatz or Market Square is heart of the town centre, which with its quaint town houses and old Franconian half-timbered buildings is widely known as "Franconia's Festival Hall".
A flight of steps leads from the Market Square to the Romanesque cloister, the Kreuzgang, which is thought to date back to the second half of the 12th century. The Kreuzgang has a special significance for culture and theatre enthusiasts: the famous Kreuzgangspiele (Cloister Plays), a series of open-air performances of classics from world literature, are held here every summer.
The Artisan Workshops are six original workshops from Feuchtwangen craftsmen. They can only be visited as part of a guided tour.
The Artisan Workshops are a part of the Fränkischen Museums Feuchtwangen .
The Stiftskirche (collegiate church) is a major landmark in the town of Feuchtwangen. It still bears significant Romanesque elements from the former monastery church. The building also features Gothic elements, which can be mainly found in the choir. The Altar of Our Lady was built in 1484 by Michael Wolgemut, who was Albrecht Dürer's teacher. The carved choir stalls were created by Swabian and Franconian artisans in circa 1500.
The Johanniskirche (St John's Church) is the former parish church of Feuchtwangen. The paintings on the vaulted ceiling of the choir date back to around 1400. The Baroque altar was completed in 1680 and the surrounding statues circa 1500. The sandstone relief by Jörg Ehenheim, who died in 1499, is another important piece of work.
For more than four decades, the Kleine Galerie has provided a home for regional artists and creatives. Situated in the idyllic Forstamtsgarten (Forest Office Garden), the gallery offers regional amateur artists an opportunity to show their works. And it is quite astonishing to see how many ideas and beautiful creations are shown during the course of the year.
From Marktplatz you can reach the Upper Gate (Oberes Tor) through Forstamtsgarten and through Hindenburgstraße. The Upper Gate is the only one of the three city gates that has been preserved.
The legend of Charlemagne's hunt and the founding of the monastery are inscribed on the column of the Taubenbrunnlein (Dove Fountain).
The Kasten or granary was built on the site of the former St Peter and Paul Chapel, whose vault served as a repository for the bones of the deceased. The remarkable half-timbered building was built in 1565 and used to store natural produce harvested on the college lands. In 1982, the Kasten was converted into the Town Hall.
The Schranne served the town's granary in the late Middle Ages. Today it is used as an event venue.